I returned from the 20th annual Valley Spinning Retreat today :) Mecchia (my Norwegian wheel) and I didn't return alone either. Mecchia will never have to be traumatised by car travel again! She got a nasty scratch on the drive out to the retreat :(
My new to me Shacht Matchless DT, with a bazillion bobbins, every size whorl avail. and a tensioned kate! yippee!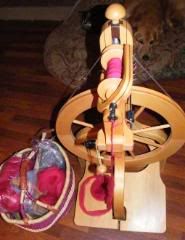 I am not sure why they uploaded to a file saying spinning_july08, but I don't care... sky was a glorious blue (wish I had had my camera, bah!), leaves were golden yellow & falling, moose were snacking and crunching through the woods during my middle of the night trek to the restrooms, and there was frost on the windows and ice on the puddles this morning... it was no July... and all about late September :)
I left town on Friday so fast I am sure there was a report of a minivan leaving the city with molten rubber left in it's tracks! I landed out at the retreat at 8pm, signed in and moved my stuffers to my bunk in a cabin. Then I headed downstairs to stake out a spot for my HUGE wheel. argh. I love my Mecchia wheel but it is *not* a traveling, space conscious partner for group spins. This year I went about and tried different wheels, got in other folks' space to gawk at what they were spinning and I indulged in luxury fiber. See my goodies?
Abby and Henry sniffin it all out!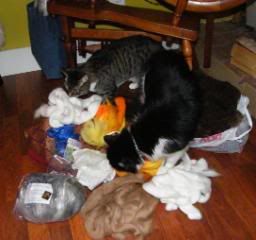 Ma! This smells goooooooood :)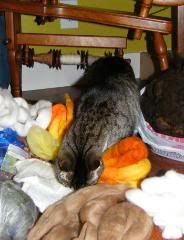 I have merino/angora and a carded batt of silk/merino in a purple blend that I won in the gift exchange. I purchased some mongolian cashmere/angora/merino blend (my new favorite fiber!), some baby camel, some dyed silk roving, some white silk hanks for dying, and some handpainted coridale roving. I also puchased a boatload of merino top for a felting project for my students. That starts this week :)
Stay tuned for details on that one.
This is my latest knitting.... another Sampler Shawl as previously mentioned. It is with the silk blend noro sock yarn.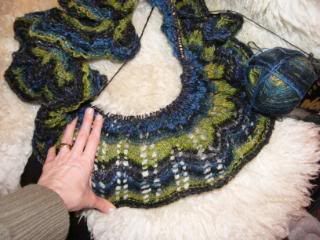 And this is sock number 1 of 2 on handspun woolen thrummed socks for a friend. I plan to dye them orange/gold/reds when I am done and then sole them in leather.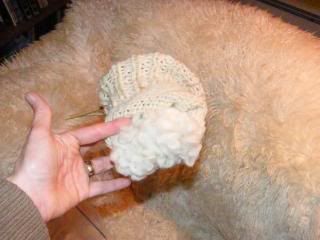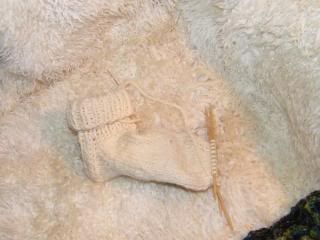 All tuckered out, wanna spin more, must get sleep.... yawn.
ps make peace, spin fleece