i got home today and decided to spin up the remainder of the split roving. i have 4 oz of this sw blueberry patch merino/tencel from
susan
and i am using 2oz for this spin. i split it in 1/2 and then divided to predraft. from there i lost track so there was really no real rhythm. i'd divided down to about pencil roving size, but forgot to keep track of the color sequence. i was concentrating on spinning about lace to fingering weight and trying to not overspin. when i plyed it i relearned the rule about overplying a bit because it unspins a bit during plying. that was a pia.
i love the colors, and am getting better at plying.
i ended up with 2 small skeins, about 50 yards each
what i learned: overply singles that will be plyed!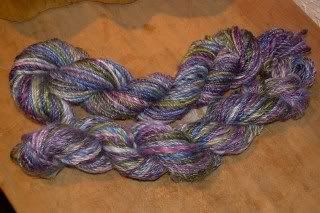 next on my agenda: i am planning on felting winter boots in the
norwegian lobben
style. i need to felt some fabric, quilt it to a lining, make a pattern, cut it out, sew it together and apply a sole. i have been wanting to do this for years, and now am going to do it with my 7th grade class!
4 days to the spinning retreat!
make peace, spin fleece!