Well, as previously mentioned we are having a damp cool summer. I am not really minding it so much... fiber helps. The mosquitoes seemed to have calmed way down and I don't have to dope up or shower in Citronella oil to go outside. I have been gardening like crazy. The only real dissapointment in the gardening department is that I bought 5 huge hanging baskets and 3 smaller ones. Most of which were fushias. One of them turned up to have an aphid infection within the first day or so :P and of course it spread. My attempts to control with natural soap/pepper/water spray was semi-successful in the buggy dept, but the damage to the plants is so ugly. Bumms me out to pay premium for ready to enjoy plants only to have to deal with an aphid problem :(
That said, knock on wood, they haven't spread to the yard. My delphiniums are great with just daily checks for leaf caterpillars. And with all the dampness, I have expected more problems with leaf mildew, but it hasn't been too bad. Here is my favorite annual (for this zone anyhow). My son's color pick, I love it!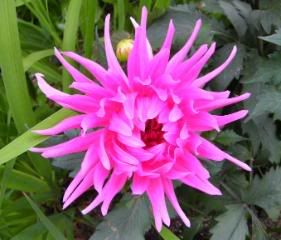 Anyhooooo... I have counted a dozen peonies in the ground now. And I have added a few more poppies. I reworked the pond area, pruning out some bushes that were overgrown, and the tree way back so that there was less shade. I also added about 10 hosta of differing variety in the pond garden. In the front gardens I have put in dozens of annuals for color, another bleeding heart in a shaded area. And moved existing perrenials around for better show. Fun, fun, fun :)
I have also been spinning like crazy... I suppose it has been to cope with being inside so much... or maybe to deal with the kids' squabbling. That is probably more like it! :)
This is a
hand dyed faulkland wool,
spun up and double plied. Perfectly balanced! yippee! I'll work on figuring out twist, weight and blah blah blah later ;)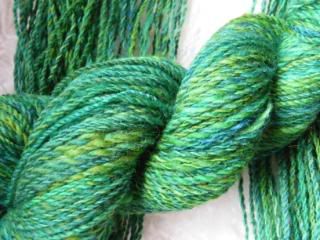 And this is about 2 oz of natural corridale. An ounce of fingering single ply. And another ounce of fingering 2 ply. Then I worked up about 3 or so ounces of merino/angora blend from
Susan.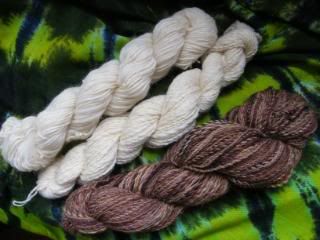 And this is the knitting on hand :) I am playing with a single skein of Noro that I just love the colorway in. It reminds me of sherbet. This will be a hat, and I am doing a pattern stitch that is called something like floral rib or something (book in car).
Make peace, spin fleece! :)