Okay, that might be a bit optimistic... summer is relative these days. We're having a rather chilly overcast like "summer" but my flowers like it. Everything but the roses anyhow.
Pale pink dahlia.
Pale yellow dahlia.
First peony of the season.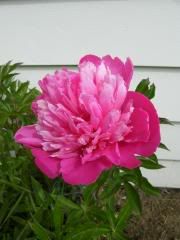 My newest lupines, these are crazy.
Columbine, or as I call them Fairy Hats!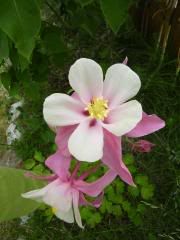 Now in light of the recent bear mauling in the city... I have crazy pictures to show. I am a SERIOUS bear-a-phobe so this was super brave stuff for me. My sweetie pie flew me (in a friends plane, with friend and his wife) to Wolverine Creek, which is about a 30ish minute flight in a Cessna 182 from where we live. We then baled out a skiff, attached a motor, added mosquito spray to our clothing before they drained us of all our blood, hopped into the skiff with a picnic snack and a thermos of coffee and headed off to Wolverine Creek. It was only about a 10 minute put-put across to the creek and upon arrival there was a single blackie dining on salmon.
Blackie :)
He was nervous (not of us, but of other bears coming) he was always looking up the creek bed to see if others were coming.
Another did come! This time it was a LARGE brown sow with new triplets! I thought that I might throw up, mess my pants and pass out all at the same time. She was very close, and it took several bad words from me before they moved our skiff farther away from the beach and I could relax! She was very nervous (again not of us, but of other bears coming)... huffing and talking to her babies.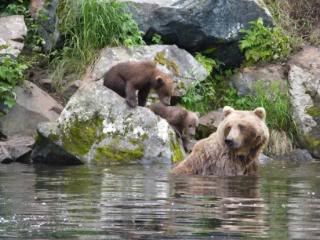 When she first came down, she came out checked out the area, chased off the blackie, and ate a few salmon. The little ones watched from the shore.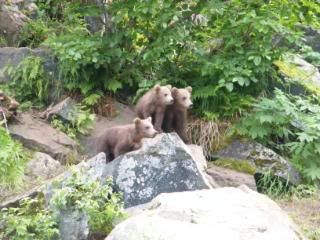 Once she was comfy, she went back and brought them out to the open area where the salmon were.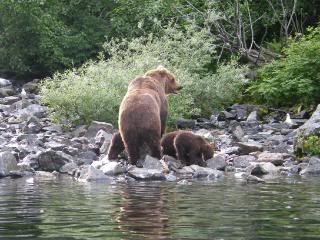 Check out that big mama bear butt!
Soon two other brownies came. They appeared to be "small" adults, and tolerated each other. Here is one of them using a tree stump to eat some of the fish on.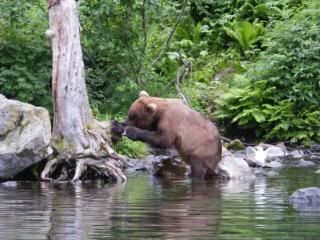 At this time there were 3 black bears coming and going, watching from nearby, waiting for the brownies to give them a chance to come down and feast. The mama bear with triplets was up farther on the hillside. They'd run off when the first of the two single brownies came. She was very protective, huffing and all telling the babies to head for the hills.
We watched the 2 single brownies for awhile, with the blackies hanging around and then a very large sow with yearling twin cubs showed up, chasing off the singles. She was huge and tolerated no other bears on the small beach!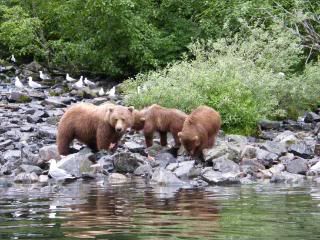 At this time we shared our picnic, good thing that there was tons of salmon so the bears wouldn't be interested in us with our food! Brownies, hogies, and hot coffee! Believe me, this food would NOT have come out if we'd not been out in a boat, and there of been lots of fish for the bears to eat.
After snacking, gawking, taking lots of pictures and soaking in the extreme beauty of the lake... several kayakers came up to bear view. So we motored off back to our plane. On the flight home we saw two black bears on a beach just across the inlet from our main destination. Gorgeous weather, calm winds and a good time all around.
I hope to never hear that huffing sound from anywhere other than in a boat!
Here is some eye candy... my sweet shy kitty Abby in the morning sun :)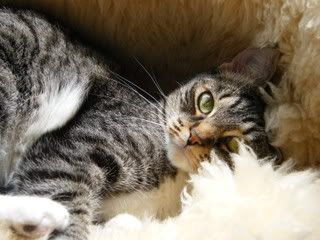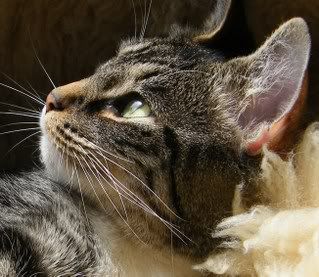 Today I spun up a small skien (about 2 oz) of corridale on my spingle during a drive out to
Girdwood
in a sport weight single ply. I am going to spin up some more and then dye them together. This evening on my
Mecchia,
I finished up about 4 oz of angora/mohair/merino in a 2-ply fingering weight (I think, I really should be more precise about this eh?). About 22 wpi, 6 tpi... perfectly balanced :)
Batteries died, pictures tomorrow or as battery charging allows!
Make peace, spin fleece!