I realized that I had not posted pictures of the items that were made and donated to the school auction. :)
This is an Eskimo extended family. Mama, papa, two children and a baby, Auntie, Uncle and Two Elders. All made from reclaimed fulled woolen sweaters and soft sculpted wool/cotton bodies.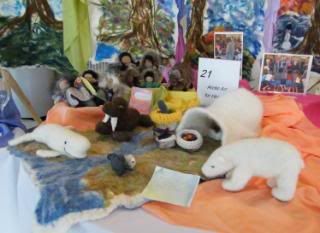 The playmat is a bit difficult to see since it is displayed here with a lot of other items with the colored silks draped around. The playmat itself was fulled flat felt with a winter scene (down side in the picture) and the summer tundra (upside). There is a creek and waterfront. A knit/felted igloo, woolen/birch baskets with needled felted berries and salmon. A needle felted beluga whale, polar bear, musk ox, walrus and sewn/woolen seal with baby. This set was done by a friend and myself.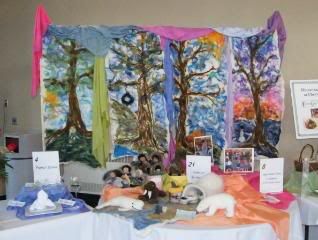 These Four Season Trees are so beautiful in person. The picture just doesn't do them justice. They actually are 4 separate panels. The silks that got draped for the display sort of make that hard to see. This was done by my grade 2/3 class over several weeks. They are flat felted.
So much fun :)