I have to keep reminding myself that these amazing people are 8th grade graduates! This weekend's (years!) highlight was the graduation of 7 amazing 8th graders from our Waldorf School.
Their individual gift presentations during graduation were a (nothing less than professional) photographic slide show (see www.jangdagallery.com), piano, viola & violin solos of the masters (double jaw dropping amazing WoW!!), personal
compositions
on piano (again... WoWWW), FreeBird sung and played by graduate playing his own handmade electric guitar (WoW! dang, why didn't I have a lighter to wave?!), a self choreographed modern dance piece!
Wow..... speechless! Well if you can be speechless and gushing at the same time! I just adore these people. These were also students of my specialty classes (woodwork/handwork fiber arts), and friends of my oldest child. I am so grateful to have been able to know and work with them since they were just little tykes. I look forward to being witness to their journey into highschool and adulthood! They are just amazing!!!
Here is a picture of a few of them (the guys) with a few of their buddies enjoying a post grad sunset!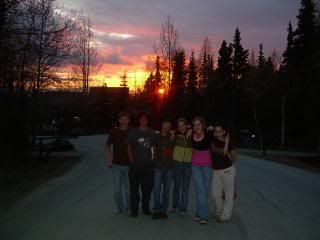 make peace, spin fleece!