We are at exactly 19 hours of daylight as of
today
! It makes people manic I tell you. Kids go bonkers, drivers go nuts, motorcycles start doing wheelies down the freeways, dogs want to play fetch and be walked at 10pm, cats are freaking out with the dustbunnies at 3 am... and fiber freaks well they spin and knit like mad :)
My car knitting.... the stuff I do at red lights and traffic jams (please don't try and tell me that you don't do it too, at least I set it down when my foot is on the gas pedal), is a sampler stole out of a blue mohair, my recipe.
And then I am spinning up some superwash merino/tencel blend hand-dyed by
Susan.
This yummilicious fiber is in the Autumn Sunset colorway, and I just love how the tencel adds that silky feel and shine.
This is the top, and fine singles...
This is about 3 oz spun up thick/thin and 2 ply. There is about 180 yards. I could have spun the singles tighter, but was more focused on trying to get the rhythm of the thick/thin thing. It balanced pretty well, but has not yet been dunked. In natural light.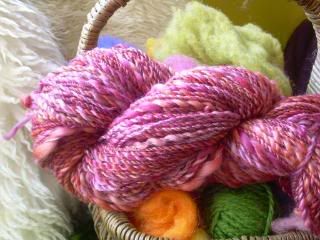 With a flash.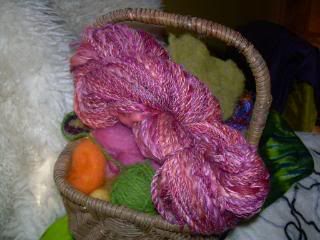 I have about 4 oz of the top left and am planning to spin it all in fine singles and navajo ply it.
Make peace, spin fleece!