I joined the gym today so that I could try to catch up with my ambitious daughter who is training for a marathon. This will take quite a while (not her training, but my catching up!). Joining a gym sounds so wimpy. :P But today it was -5F average, and my daughter frost bit her ear week before last when it was 10F above, so I wasn't about to go running at minus anything. I am a little bit afraid of slipping on ice being so out of shape. I can just see me throwing my back out. Anyhow, less knitting, more off the couch time in the future. Other Good News... I sold Bohemian Medusa :)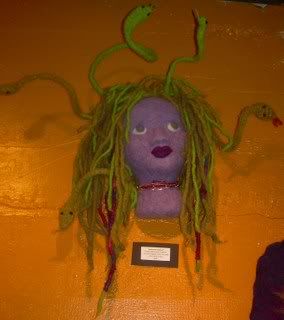 The sculpture has changed since this picture just a little. The tongues where changed to copper, and the eyes are now glass beads. Loved her, but glad she has a good home to live in.
Make peace, spin fleece!