I hate feeling like this. I am not sure where I fell down, but the feeling is back and it's a bummer.
Lots of knitting. A cashmerino ballet sweater top for daughter, needs blocking and a button.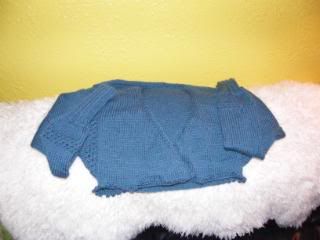 Two cashmere slouch hats... one in a soft green and the other a purple tone. They have been knit and reknit, but I can't seem to get the fit I want. It is a good thing that I love the yarn.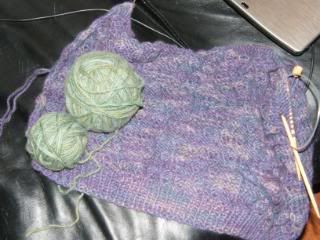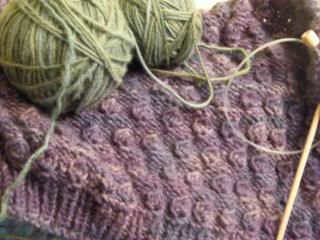 And a cashmere mobias scarf in a nice sage/olive green fingering wt. I am using a fir cone pattern on that one.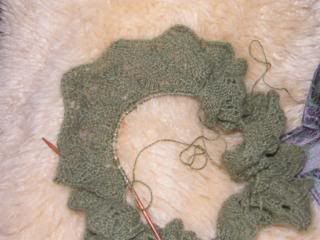 Right now I am working on a show of students' work, and we a great floral fiber sculpture--say that 5x fast! As soon as I get the backing on that I will post a picture. We'll hang at
Sevigny Studio
for the month of January beginning with the opening on the 2nd. Hopefully to some live music (the students' string quartet or some duets)!
So Santa thought I was nice this year... either that or he was trying to make me feel better. Me thinks it might be the latter :) But my rig now is sporting a yamaha top sport carrier to hide all those skis and ice skates. And the back has a top of the line bike rack. Santa thought it was highly unlikely that my weakling arms could get a bike on the top of the van. I think that he might of been right on that one. Anyhoo... I also got a new (second) knitting needle carrier.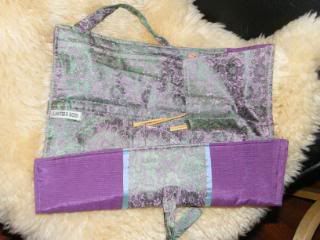 This is good because my other is exploding and it doesn't even have 1/2 of my needles in there. I also keep losing my crochet hooks. I might go get the crochet case to match it up.... or I could make one. I guess :)
So I don't know about the rest of the country, but we're having a great winter. Nice and crisp. It has only warmed up (knock knock) once or twice making things nasty. We got about 10-12" in the last 2 days. Lots of powder. A great white Christmas! The skiers are in heaven. If I could get out of my funk I would definately join them. I may need a readjustment on the program if this goes on more than another week. I think that I might have taken on too much and just need to step back. But I am considering trying some light therapy on top of the current treatment and see if that helps a bit. By the way... if you are feeling a bit funkish... I do not recomment seeing Me & Marley. You definately need a hanky for that one :)
Until then... I'll keep trying to knit the blues away.
Make Peace, Spin Fleece