school starts the day after tomorrow. i think that i blinked and missed something... like summer. i did figure out what i want to add to my new garden (hosta, hosta, more hosta and some more vivid color including many more dahlias) and i want to definately remove others (cornflower, cornflower, more cornflower). i also now know that i have maybe the largest bleeding heart on the planet which needs to be staked before it blooms. and i must not forget that when they say "giant delphiniums" that means that they are over 6 feet tall. this also means staking.
that all said, i may have fallen off the spinning wheel during the tour de fleece, but i did not quit creating. i have a
small
show going in a
local cafe'
hot spot with another artist
katie sevigny
. i finished another sculpture piece...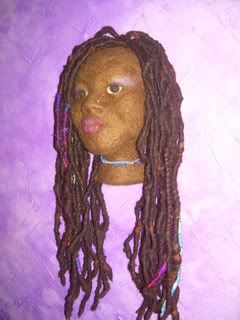 i wish i could show the detail more, she is amazing (if i say so myself). i even think she might be my favorite so far. she is needle sculpted from wool over a shallow foam core. her dreds are wool over cotton cording. she has silk hair wraps with copper and silver wire. she has a sterling silver nose ring and hand beaded necklace. i may get my bum in gear to place her in the cafe' show before it ends.
i finished a baby sweater from cotton/wool---haven't taken digis. i am still recovering. tune in later for details :-P
just today i cast on for a third
lady entrelac stole!
my family said "not
another
one?????!?!?!?" but i said, i love this pattern, and i can knit it if i want to! this spring i finished entrelac #2 from noro's silk garden. i knit it with the intention to keep it for myself as a lighter weight version (from my first) but have decided to donate it to a fundraising auction for the school i teach at and my kids attend.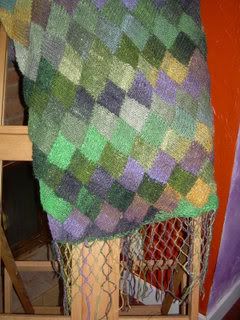 sounds altruistic, and might be a
little
(i love our school and do everything i can for it) but the bigger truth is that i had found another colorway by noro that i liked, no loved, ummmm
lusted
over (i do wish it were a silk garden, and not the kuryeon, but it is my favorite colors, purples, orange, lime) and it means that i get to knit my favorite pattern
again!just cast on!!! yiiiipppppeeeeeeeeeeeeeeeee! i am just a little excited.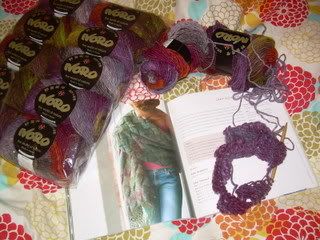 my first go at this pattern was with the mango moon recycled silk...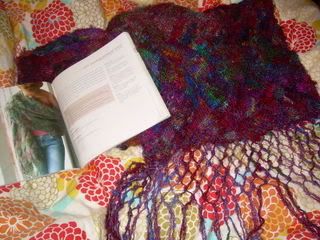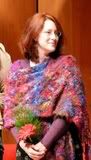 i swear it took me a year, first i knit it on the size 10 1/2(us) the pattern calls for, and after a couple feet, decided that it looked to holey in the over twisted areas of the yarn. so i reknit on size 8(us). i refused (being the arogant knitter that i am)to use markers on the ends of the rows. this bit me in the you know what about every 3-4 rows, and i wouldn't catch it for about another 3 rows, so that meant lots of frogging. lots.
i also made it longer than the pattern called for (on purpose) forgetting that the fringe was an extra long fringe. that meant removing one end of fringe and frogging out some of the length, reknitting the last row and redoing the fringe.
have i mentioned that i love it? i wouldn't of been able to do all that knitting and frogging and reknitting if i didn't just love it. i still made it extra long. it is about 7 feet long not including the fringe. because of the fiber it is plenty hefty, with a lovely drape. i wear it a lot and people can't help but comment and pet it. the silk just gets softer. one other thing about it. remember that i spent at least a year knitting it. during that time there was lots (and lots) of turning around doing the blocks. i wondered often during that time why we turn around to purl. why not just knit backward? i practiced quite a bit and figured out how to do it, and altho i didn't knit the whole stole with that trick, it was pretty fun to do. then i found
jae
and noted that i wasn't the only one doing entrelac wondering the same thing... nor was i the only one using that colorway of noro. brilliant minds and good taste, oh yeah!
this weekend we bought a new fiber cart, her name is roxanne...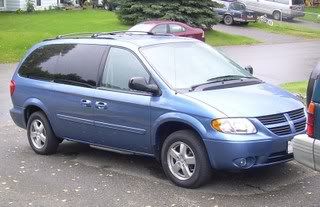 and on our first outting in her, we met up with this little mama who's calf was on the other side of roxanne, not a good place to be!
last week my sweetie started construction on The Studio... my studio! she is in the back garden through the arbor, next to the pond. 10X12, not too big, but big enough to be mine-yay! details to follow and construction continues.
oooh hey, one last thing. i got my ebay prize... 9 pounds of raw merino, lovely stuff, even henry thinks so.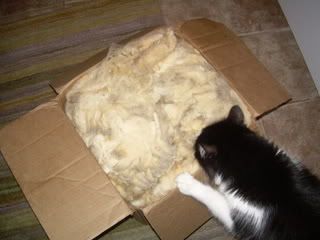 i must get spinning wheel... that is a lot of wool to hand spindle.