that is if you consider lazing around listening to talk radio while surfing, knitting, spinning being "in the groove"... i am! actually what is tying me to a stationary place is my lovable golden/newfie that has some hot spots that she is chewing. she's getting worse and has added a new spot while we were camping on the beach. we've started tyroid replacement to rule out skin issues from that deficiency. and after having gone through many naturopatics we're resorting to some highpowered steriod topically. the point? someone must be with her tuned into her at all times, or the muzzle must be on. i don't even talk about those bell hoods... have spent $$$$ over the years on those and she's quite capable of reaching what she wants with those on. and she's very good at ramming me with it when she wants something


fibery stuff

finished my sampler stole while out on the beach! i have to say that was one of the most challenging things that i have ever knitted. not because it was technical, but because of the ever changing pattern and the 400 stitch length (read a lot of frogging when you find a stitch count off starting a few rows back) ugh, but i love the finished stole! pictures to come after blocking

i have been spinning the tour de fleece!
here is the angora/wool blend from Susan in the anshuns biscotti. i have spun lace weight and then navajo plied it on the spindle- that was a first! i need lots more practice that is for sure. i spun some singles that vary from dk to sport weight. lovely fiber=yummilicious!



i am almost finished with sock #2 of my green koigu in a basic sock pattern, sock #1 was done over a year ago!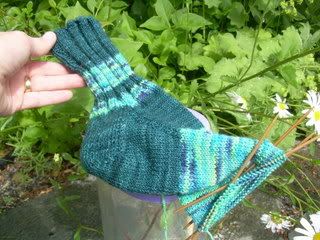 non fibery stuff

we came home to lots of new flowers and lots of bloomed out flowers in the gardens. it is amazing how much changes daily when it is light most all of the night. you can have a tight rose bud in the evening all the way open by morning. here are some of the new pretties!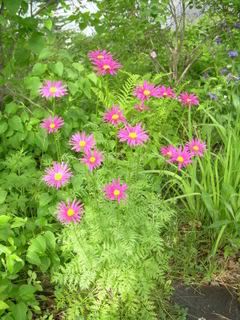 i came across a screaming deal on some keen winter boots! i was going to replace my sheepskin boots, but i adore my other keens, and when there is only 1 size on the table, it is your size, and it is a shoe that fits like a glove... plans change!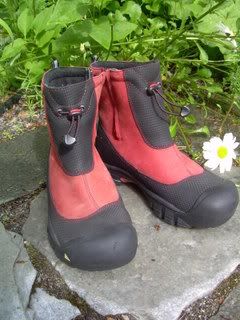 i also found some groovy rain boots. i have never splurged on rain boots before... we call them "break up boots" around here, but my dd is the same size as me now so i can justify them now.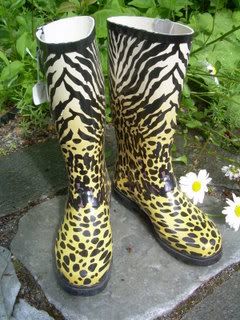 this was a picture that i took on my way out of kachemak bay while up on the bluff. i know it is hard to see in the pic, but that is st. augustine spewing steam in the distance. it is not currently doing ash and lava, but lots of steam.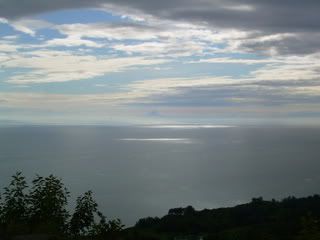 keep peace spin fleece, do the tour de fleece!